Hearty Chicken Paleo & Keto Soup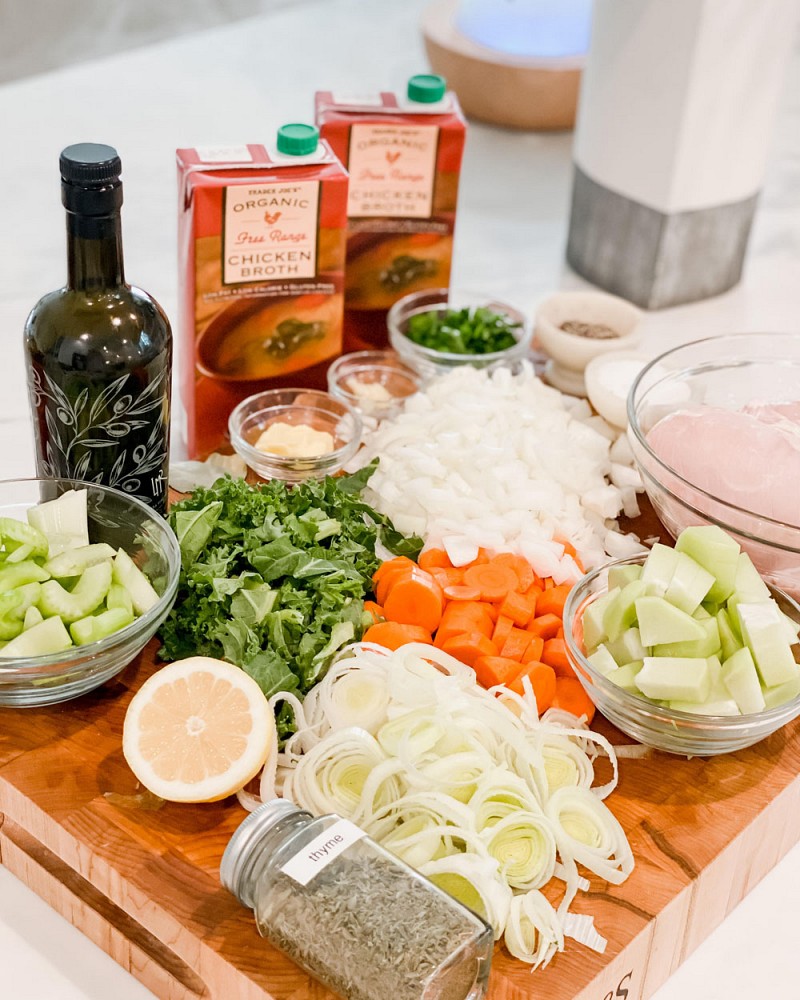 While I love to make soup year round soup season is officially here and I'm thrilled to share a huge fave in our home that's been on rotation weekly...
I started making this soup early this summer when Kevin was going through his harsh chemo treatments and could hardly take anything in. Not only did this help his body and soul but it's become mine and my picky boys' favorite as well.
I've played around with it a ton over the past 6 months trying different things and combinations, and I think it's safe to say that I finally perfected it.
I know what you're thinking, how can this chicken soup without any noodles or anything in it be THAT good? I know, I know, I thought the same exact thing... But there's just something about this that's SO good and with the couple of tricks I share, I can assure you you'll be convinced as well, and won't be missing ANY of the carbs. Promise! So, there's a couple points to this soup that make it really special....
Number one, let's talk chayote squash. This may be among one of the best discoveries in my keto lifestyle. These funny looking little squashes can be mimicked as a potato, pasta, and even apples. Yes you heard me right. I made an apple pie last year and my kids couldn't even tell the difference. Total game changer. And when you bite into this delicious soup I dare you to recognize it as anything different than a potato...
Next. How do we make this soup so rich and creamy without any starch or flour? I'll tell you how, we removed about half of the soup and blended it until creamy with a stick blender. Genius right? How have I spent 37 years of my life not knowing this simple, healthy trick? And I called myself the soup queen? It's beyond me, but I'm super happy that I know it now, as I've been implementing it in other soups this season too...
Ok and now for the soup, here's the scoop...
Ingredients
1 tbsp butter or extra virgin olive oil
1 medium yellow onion finely diced
2 medium carrots peeled and chopped
1 small leek chopped
3 medium stalks celery chopped
1 chayote squash peeled and diced
1 tbsp dried thyme
1/4 cup fresh parsley loosely chopped
1 garlic clove minced
1.5 litres chicken stock
2 bay leaves
1/2 tsp salt
1/4 tsp black pepper
3 raw chicken breasts
1 cup chopped kale
Squeeze of lemon juice
1 tbsp olive oil
1 tbsp fresh parsley
Instructions
Heat 1 tbsp of butter or olive oil in a non stick soup pot or Dutch oven and saute on medium heat the onion, carrots, leek, celery, chayote squash and thyme and about 3/4 of the parsley for about 4 minutes until beginning to soften. Add the garlic and saute for another 30 seconds.
Add the stock, bay leaves, seasoning and raw chicken, and bring to boil. Reduce heat slightly and cook with lid on until chicken is done about 20-25 minutes, shred chicken.
Remove half mixture and bay leaves and pulse with stick blender. This thickens the soup and adds flavour.
Add the rest of soup back into the pan along with the greens and simmer until they soften (about 1 minute.)
Mix the lemon juice with olive oil and swirl into the soup and top with fresh parsley. Adjust seasoning to taste and enJOY!
Shop these Products